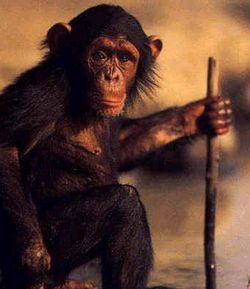 Current Campaigns
Meatless Mondays
MARS is currently in the process of gaining support for a green initiative that is aimed at the university's dining halls. The tentative name for this initiative is "Meatless Mondays" and it the general idea is to get Residential Dining Services to promote a more plant-based diets to the student population at East Quad. If our efforts at East Quad are successful, we will expand our efforts to other dining halls. We met with the Michigan Sustainable Food Initiative recently, and received lots of support, including the support of Chef Buzz, East Quad's Head Chef! More meetings with Dining officials are scheduled.
Take the Leap Video
In recognition of World Week for Animals in Laboratories (April 18-26), AAVS is proud to announce the release of our Take the Leap video, which urges consumers to go cruelty-free and to sign the Leaping Bunny Pledge to demonstrate their commitment to compassionate shopping.
Click Here to Watch Take the Leap Video
Take personal action by only buying products from cruelty free companies listed on the Compassionate Shopping Guide
Primate Week- Ann Arbor News & Michigan Daily news coverage
Our Primate Week demonstration was a success despite the rain; we got in the Ann Arbor News as well as the front page of the Michigan Daily. The assistant opinion editor from the Daily has also asked me to write a viewpoint piece on what is happening over at the University of Michigan labs, which will likely be published next week
Michigan Daily is hardcopy newspaper only
I want to thank everyone who made the demonstration a success! And now that we have attention, we need to keep on it. Change is near all for those poor rhesus monkeys in the lab
Julianne
Primate Week Petitioning Success!
Just wanted to update everybody about MARS and Primate Week (Oct. 11th-19th).
Yesterday, some PETA2 staffers as well as myself and one other MARS member collected nearly 300 student signatures (and planted awareness for possibly thousands) condemning the cruel and unnecessary cocaine/alcohol experiments that are happening over at the University of Michigan Medical School. As per now, the plan to boost awareness of this issue is as follows:
1.) Garner student support through petitions before and during Primate Week
2.) Post these flyers around campus:
Primate flyer 1.
Primate flyer 2.
3.) Decide on a date to do a Diag demonstration with volunteers taking turns being inside a wire dog cage while others hand out information/hold out signs about primate testing in general as well as specific information about what's happening at our school
4.) Contact the Michigan Daily and Ann Arbor News before our demonstration to see if we can get on the front page
For the reports about what's happening at U of M, please see the following links:
USDA Reports. (begins on page 35 of the document)
Also if you have trouble seeing any of the links/documents, let me know and I can send them to you via e-mail
Helping Farm Animals in California
"This November 4, Californians should vote YES! on Prop 2 – a modest measure that stops cruel and inhumane treatment of animals, ending the practice of cramming farm animals into cages so small the animals can't even turn around, lie down or extend their limbs- vote YES on Proposal 2"
If this passes you guys, it would be landmark; hopefully we could get something like this going in Michigan
Hydroponic Meat
Now is this great or what?
*****
Dear Friend,
I would like to provide the Michigan Animal Rights Society with an opportunity to participate in a cause that has the potential to end the vast majority of animal suffering and address some of the most critical environmental issues we face today.
The cause I am referring to concerns the research and development of hydroponic or "in vitro" meat as an ethical and responsible alternative to animal flesh for human consumption. Similar in concept to soil-free hydroponic vegetable cultivation, hydroponic meat is grown without the body of the animal.
Currently, there are no funded hydroponic meat research and development programs in the United States. To address this issue, I've entered a project titled "Hydroponic Meat for a Sustainable Planet Earth" in the American Express members project contest.
Hydroponic Meat Research Project.
Projects are eligible for $100K to $1.5M in funding. I have selected New-harvest.org as the recipient organization in the event that this project is awarded funding.
If you would like to show your support, there are several ways:
1. nominate this project
2. post a comment on the site
3. Provide this notice to others who would be interested in supporting this idea.
Projects may be nominated by the community through the 31st of August.
The success of this project depends upon funding, and funding will only be possible with the collective support of the compassionate community.
Though you and I may choose to live vegetarian lifestyles, in actuality, overall meat consumption in the United States and in developing countries (e.g. China) is on the rise. According to a United Nations Food and Agriculture Organization report, this trend is anticipated to continue into the future. Hydroponic meat produced and marketed economically at a commercial scale for public consumption possesses the potential to undermine the demand for traditional meat as an equivalent commodity in a capitalist economy, regardless of the values of the consumer. If realized, hydroponic meat will be the most realistic and effective approach to ending the majority of animal suffering and restoring our environment.
Please join me and show your support for this project. If you have any questions or concerns, feel free to write and I will be happy to respond.
Thank you for your time and consideration.
Sincerely,
Nick Genovese
P.S. The renowned primatologist, environmentalist and vegetarian Jane Goodall is on the AmEx members project Advisory Panel responsible for advancing the top 25 community supported projects to the final voting rounds. With her insight and your participation, I am confident that we will have a chance to profoundly change the future.
For more information on hydroponic (in vitro) meat:
Getting Michigan to go battery cage-free
What do Stanford, Harvard, Dartmouth and the University of Minnesota have in common? They all made the switch to battery cage-free eggs. Partnered with the Humane Society of the United States, MARS is currently trying to get the University of Michigan Residential Dining Services to join these schools and switch to more humane battery cage-free eggs. We are also promoting egg replacers as cost effective, 100% vegan options in the baked goods that call for eggs.
For more information on what you can do to help with this landmark proposal, please e-mail:
or
Visit the Humane Society of the United States's battery cage-free egg website:
Vegan Options on Campus / in AA
We are currently implementing a campaign to get more vegan options available in the residence halls, better labeling in residence halls and area restaurants, and gathering information on vegan options that already exist.
Part of this effort involves our on-going discussion with Residential Dining Services. Another aspect of the campaign is a restaurant survey that we are distributing.
Our eventual goals are:
Local restaurants labeling dietary compliance for items on their menu
Dorms providing adequate and nutritious vegan options at every meal
Better labeling of food items in the dorm cafeterias
Door/Window stickers for restaurants or other businesses that cater to the needs of veg*ans
---