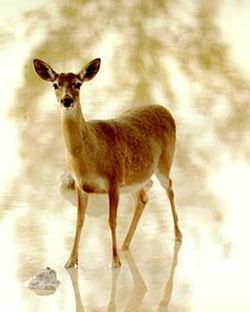 Fried "Chicken"
Fried "Chicken"
(from PETA's Lunch Recipes)
1 tsp. salt
1/2 tsp. onion powder
1 tsp. pepper
1 tsp. garlic powder
2 cups unbleached white flour
4 Tbsp. nutritional yeast (optional)
3 Tbsp. yellow mustard
1/2 cup water
2 Tbsp. baking powder
1 lb. mock chicken (try Worthington Chic-Ketts or White Wave wheat meat)
3 1/2 cups vegetable oil
Mix together the salt, onion powder, pepper, garlic powder, flour, and nutritional yeast in a deep bowl. In a separate bowl, dilute the mustard with 1/2 cup water. Add 1/3 cup of the flour mixture to the mustard mixture and stir. Add the baking powder to the dry flour mixture and mix.
Dip chunks of the mock chicken into the mustard batter, then drop each chunk into the flour mixture and coat with the desired amount of "crust." Fry the chunks in hot oil on medium-high heat in a large skillet or deep fryer until crispy and golden brown, turning as needed.
Makes 4 servings.
---